February 24, 2023
Productivity/Goal planning Tools
I like creating tools that make mine or other people's lives a little easier or structured - and sometimes I share them with the world. Here's a few of them related to goal-setting, and productivity.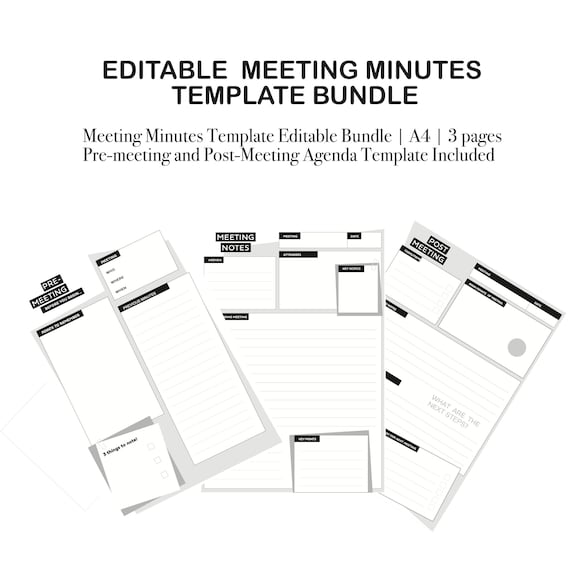 I'm always looking for ways to increase my productivity and get more out of my day - not really. I like creating tools that make mine or other people's lives a little easier or structured - and sometimes I share them with the world. I've read all the productivity books, experimented with all the different techniques and tools for life/time-management, and I've developed a few side projects along the way based on what I've learned and what works.
In this post, I'll share some of those side projects, including a meeting minutes template, a 1-page goal planning sheet and a goal setting journal (undated so you can use it for 2023 or beyond). Hopefully these will help you boost your own productivity! Most of them are linked on my Etsy store, if you're interested in purchasing them.
Meeting minutes template
I take part in a lot of meetings, and it's always hard to keep on top of it all - so I created this meeting minutes template to help me keep track of what happened in each meeting, as well as action items that need to be completed.
Keeping meeting minutes is essential - so much gets lost otherwise, but no-one wants to be the one to document or record minutes. In an attempt to make it more pleasing, this template has three pages - one for an agenda, another for meeting minutes and notes, and the last for post-meeting items that need to be completed.
1 page goal planning sheet -
This goal planning sheet helps me to keep track of my goals for the month and ensure that I'm making progress towards them (or not!).
For me, some (limited) planning is key to staying productive and reaching the goals I set for myself - but I don't think it needs to be an overly complex or detailed task. That's why I created a 1 page goal planning sheet. It's an easy and concise way to map out my goals for the month/year and keep track of my progress along the way. Having this sheet means I'm able to quickly see which areas need more attention or have been met, so I can adjust accordingly without becoming overwhelmed by pages and pages of notes/tasks.
Goal setting journal/diary
This is a physical or digital journal that arose from a time in my life where I was a bit lost and looking to make some sort of plan for the future that I actually wanted to work towards - e.g. aligned with my values!
The journal/diary helps you:

- Identify and define your values, the things that are really important to you;
- Identify your goals and whether they relate to your values (hint: they should!)
- Reflecting on the current state of your goals (e.g. I want to stop smoking but I smoke 5 cigarettes daily which is down from 10-a-day six months ago).
- Making a list of potential barriers to succeeding and how to overcome them (sometimes called coping planning).
- Listing out any resources (books, information, time) you need to succeed and how to get them.
- Thinking about any habits that might help with achieving your goals.
- Reviewing your progress at regular intervals.
- Planning a path from where you are now to a point where you achieve your goals.
- Tracking random ideas related to your goals that might be relevant at a later point.
I've always found it a lot of fun creating my side projects. These products have all  helped me put some direction and focus in my life, set goals, and stay organized - without becoming big burden to maintain. If they can be useful for me, then I think they can be helpful for other people too.
As much as I love technology, nothing beats the feeling of physically turning each page in your goal setting journal or planner and looking back to see all you've accomplished over the past few months. Here's to a productive new year!