March 14, 2021
(Home) Office Essentials
If you're working 8 hours a day in front of a screen, your work space should at least be comfortable. Here's what I use.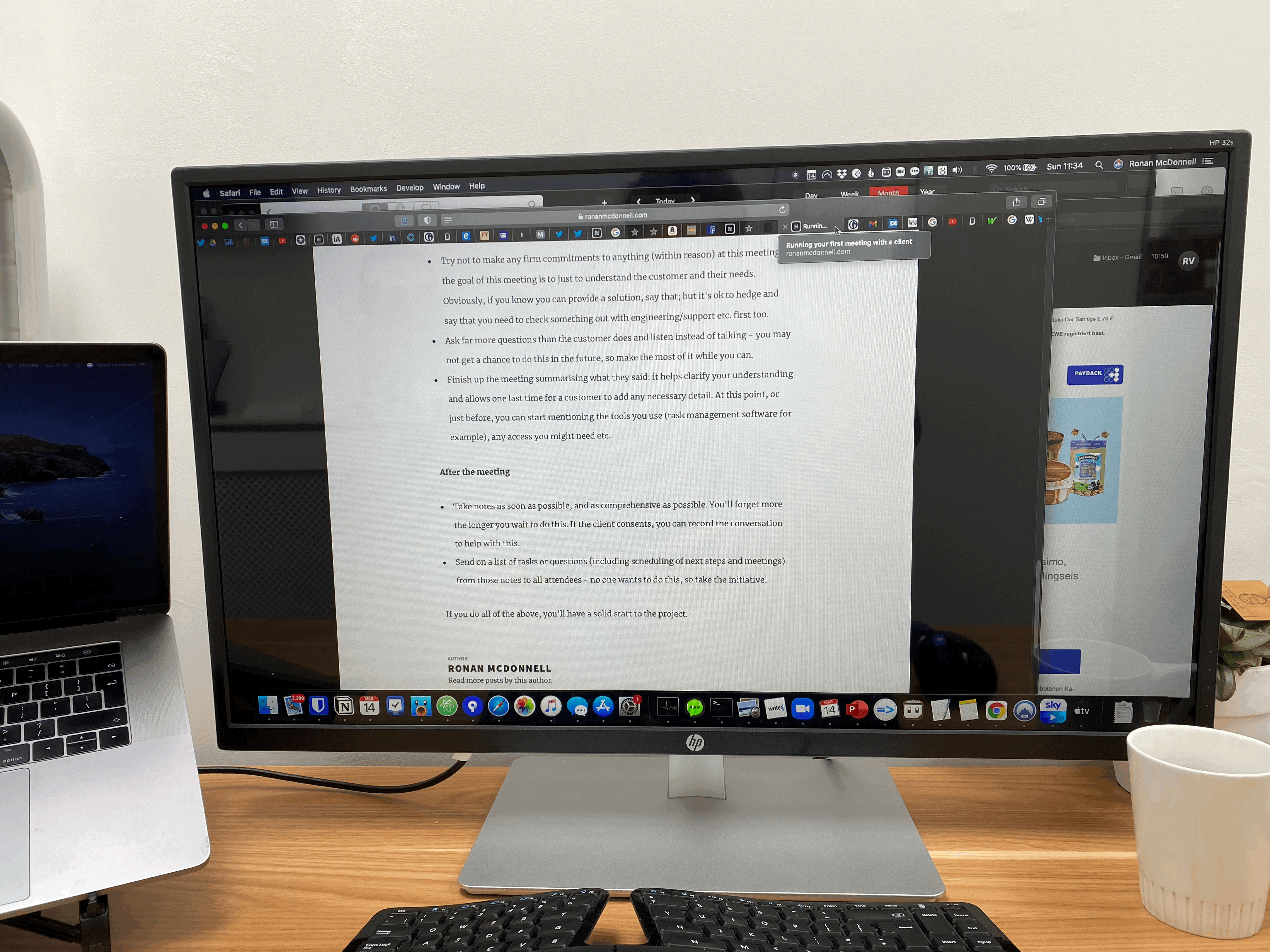 I know that everyone has been working remotely for the last year or so, but even in the past month, I've talked to a few friends and colleagues who are still working from the kitchen table, or complaining of ongoing back, neck and shoulder issues due to the setup of where they spend most of their working day.
I've had back issues over the years and have tried everything and anything in order to make my work space as ergonomic as possible -  my setup is now fine-tuned so that I've managed to have zero back issues during this entire year of working from home.
I've listed all of what I use below - I either use or used everything I've listed here.
Desk - Height is the big thing for me, that I can my forearms on the table. However, getting an adjustable standing desk has been a game changer for me too as I can stand for meetings and sit for deep work as I need to.
Any desk that allows you to rest your forearms is a good choice, but for an adjustable standing desk, I use this one by Flexispot. A friend has also recommended this one by Fully, but I've never used it personally.
If you're getting a standing desk, you'll need a floor mat - I'll talk about those later in the accessories section.
Footrest - Let's face it, you don't always want to stand and having a footrest is a great way to give extra support to your lower back. I've used two, one soft and one adjustable - I prefer the adjustable one, but I know others prefer soft.
Adjustable Foot Rest - this isn't the exact one I have but it looks the same from the pics.
Softer Foot Rest - If you prefer something softer on your feet.
Back Support - You can get an office chair if you really need it, but I decided to add back support to an existing chair - this back support does the job perfectly.
Laptop Stand - As well as your desk at forearm height, your laptop screen or monitor should be at eye height so that you're not looking down or up all day in order to work.
The NEXSTAND K7 Lite stand is a really inexpensive option for a laptop stand - it's light, can be folded down for travel and is adjustable too. There are a couple of other models with larger 'hooks' at the bottom of the stand to stop the laptop slipping off, but I really like the look of this one.
External Monitor - I prefer a bigger screen to work on than my laptop, and it's better for me ergonomically - I'm not doing any crazy gaming or movie work so the following to monitors (one 27 inch, one 32 inch) have worked really well from me.
Note: A quick rule of thumb for how far away the screen should be from your face - stretch out your hand in front of you and if you can touch the screen, you're probably too close.
Keyboard / Mouse - About a decade ago, while trying to write a 65000 word PhD (never again!) I broke my arm in a Judo competetion 6 months before it was due to be finished. It became incredibly painful to type on a regular keyboard.
As a last resort, I bought the Microsoft Ergonomic Keyboard and Mouse. It's odd looking, but I didn't have any more pain writing - and I've had 2 more of them since.
Enough said.
Connectors - If you own a Mac or need to connect lots of external devices like a keyboard, mouse, or a monitor, you'll need some extra connectors.
I personally think the official Apple connectors are too expensive, but the Anker ones are generally cheaper and work just as well. Here is the one I use to connect my monitor via HDMI and my keyboard via USB.
Accessories -
Floor Mat - If you've a standing desk, you'll need one of these. There are many options to choose from but if you're looking for a basic option, this one by Prism is a good solid choice and works well for me -  I've stood for hours in relative comfort.
Plant - Put a plant on your desk, it shouldn't all be beige and devices!